World Sight Day Challenge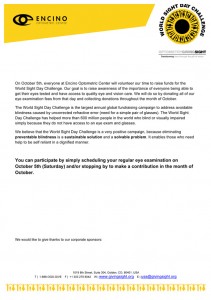 Click here to download flyer
On October 5th, everyone at Encino Optometric Center will volunteer our time to raise funds for the World Sight Day Challenge. Our goal is to raise awareness of the importance of everyone being able to get their eyes tested and have access to quality eye and vision care. We will do so by donating all of our eye examination fees from that day and collecting donations throughout the month of October.
The World Sight Day Challenge is the largest annual global fundraising campaign to address avoidable blindness caused by uncorrected refractive error (need for a simple pair of glasses). The World Sight Day Challenge has helped more than 600 million people in the world who blind or visually impaired simply because they do not have access to an eye exam and glasses.
We believe that the World Sight Day Challenge is a very positive campaign, because eliminating preventable blindness is a sustainable solution and a solvable problem. It enables those who need help to be self reliant in a dignified manner.
You can participate by simply scheduling your regular eye examination on October 5th (Saturday) and/or stopping by to make a contribution in the month of October.