1. What is TempSure Envi?
TempSure Envi is an advanced monopolar Radio frequency device that is used to heat the deep layers of skin to regenerate collagen, reduce wrinkles, forehead lines, frown lines, crow's feet, smile lines and wrinkles on the chin.
2. What is Radio Frequency Skin Tightening / Facial Treatment?
Radio frequency is an aesthetic technique that uses radio frequency energy to heat tissue and reduce wrinkles. Radio frequency is completely non-invasive. During treatment a special gel is applied on the patient's skin for comfort and safety. Radio frequency treatment is delivered deep inside the skin tissues using the probe emitting radio frequency waves. This energy stimulates collagen production which results in tighter, younger looking skin.
3. What is the problem?
As we age, our bodies lose the ability to generate collagen as fast as it is depleted resulting in loss of skin firmness. This leads to wrinkles and fine lines, leaving you with a smile line, crow's feet and other bothersome creases.
4. Is this treatment safe?
Yes, it's safe for all skin types and levels of sun exposure, so it fits perfectly into any beauty maintenance routine, any time of the year. TempSure Envi has been carefully designed with comfort and safety in mind to provide you with a comfortable and effective treatment every time. 99% of patients described the treatment as comfortable.
5. How does Skin Tightening on Face works?
During this treatment, you will experience a gentle warming sensation around the target areas. Radio waves penetrate the patient's outer skin layers, delivering heat energy to the muscles and tissue beneath. This heat stimulates collagen production and that, in turn, triggers tissue contraction.
6. How does it help Dry Eyes?
Around the eye, TempSure Envi has an added advantage of delivering deep eyelid massage that 'milks'the inflamed and clogged oil glands. A probe delivers the RF treatment to the entire eyelid surface. The oil glands get a fresh start and in a matter of a few weeks, the eyes feel sufficiently moist and comfortable. The frequency of the treatment varies depending upon the degree of the underlying inflammation and the recurrence of the dry eye symptoms, but usually about 3-4 treatments are recommended 4-6 weeks apart.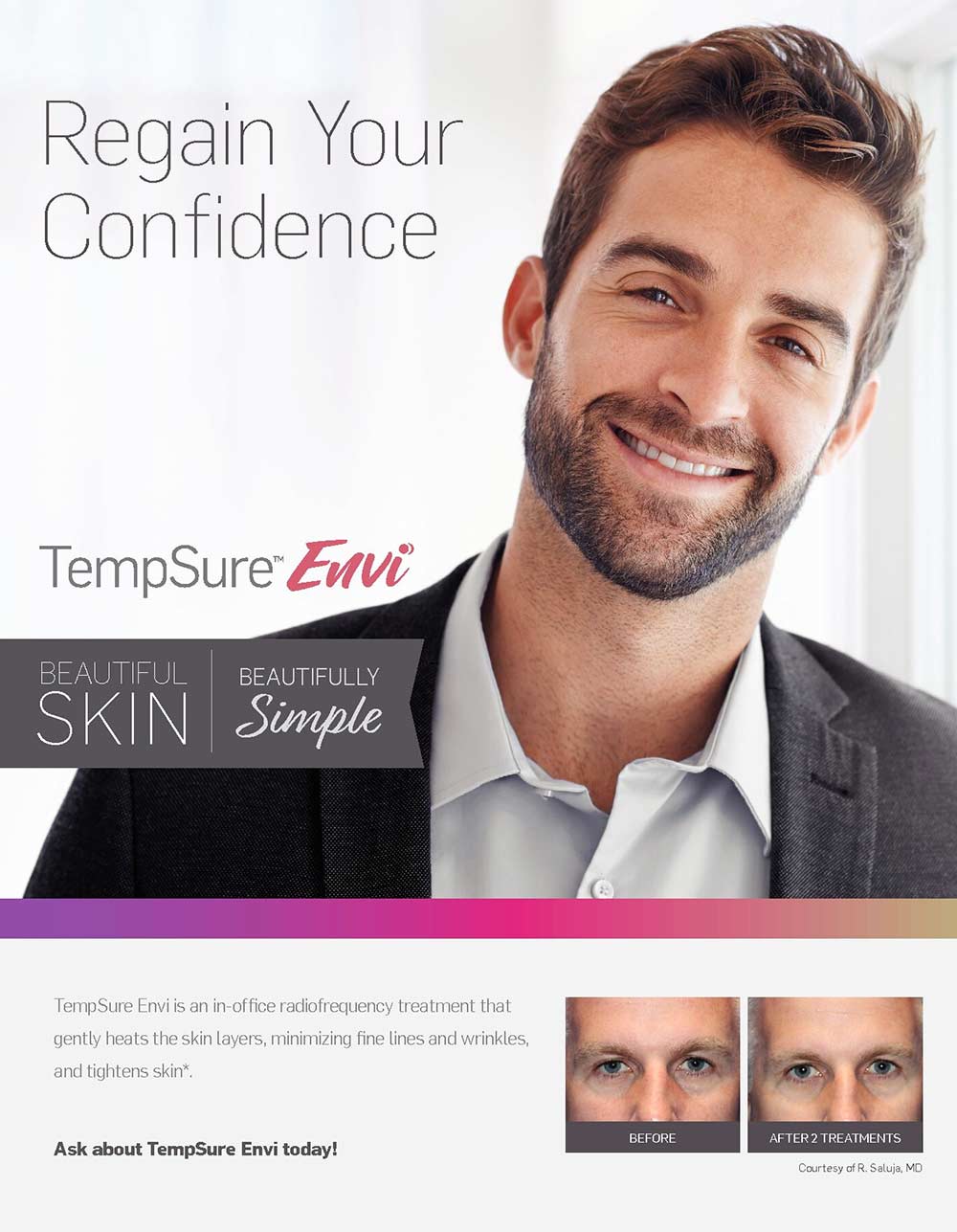 7. What areas can be treated?
TempSure™ can safely treat anywhere on the face.
Around eyes.
Upper Face.
Lower Face.
Full Face
8. What are its benefits on our face?
Instantly, you will leave with a natural glow, and what patients describe as a 'tighter' feeling. The best part is that collagen will continue to rebuild over time, enhancing your skin's appearance.
9. What is the right age for this treatment?
Longer-lasting results are seen in patients in their mid-30s to mid-50s. Patients in their 60s and 70s will need maintenance treatments sooner.
10. How much time does it take?
Most of the treatments can be performed in 30 to 60 minutes depending on the area being treated. There is absolutely no downtime and you can return to your work and other normal activities immediately.
11. How many treatments do we need to see results?
You will see the result after the first treatment. The best part is collagen will continue to rebuild, enhancing your skin appearance over time. We recommend a session for every decade of life.
12. Does it need a maintenance / touch-up session?
Yes, it does need a touch-up session every six months or once a year depending on the age and skin condition of a patient as well as the patient's health and lifestyle.
13. Is this treatment bundled into packages?
This treatment is typically bundled into packages of three or more to provide discounts.
14. Is Radio Frequency Skin Tightening FDA approved?
This is FDA approved as a non-surgical treatment for facial wrinkles, skin tightening, crow's feet. It is used 'Off-Label' for the treatment of dry eyes.
15. What should you avoid on the day of treatment?
On the day of your treatment you should avoid wearing any cosmetics or lotion, especially oil-based formulas, as they may affect how effectively the RF waves make contact with the skin.