Robert L. Gordon, O.D.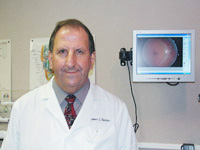 Dr. Robert Gordon is currently retired from private practice and is committed to academia. He is now the Associate Dean of Clinical Affairs at the College of Optometry at Western University. He continues to be supportive of the Encino Optometric Center.
Dr. Robert Gordon founded the Encino Optometric Center in 1973. He graduated cum laude from the Southern California College of Optometry. After completing his training, Dr. Gordon served as a staff optometrist at The Pentagon, Washington, D.C. Dr. Gordon's areas of special practice interests include vision rehabilitation for the partially sighted and specialty contact lens fitting for eyes with diseased and/or scarring.
Dr. Gordon has been the recipient of numerous awards and honors. He is a Fellow of the American Academy of Optometry, he has been inducted as a Distinguished Practitioner into the National Academies of Practice, received the Optometrist of the Year Award from the California Optometric Association and has had Resolutions passed by both the California Senate and Assembly recognizing his professional accomplishments. Along with Dr. Silvers, he has had a scholarship endowed in his name by the members of the California Optometric Association at the University of California, School of Optometry and the Southern California College of Optometry for a lifetime of excellence and achievement.