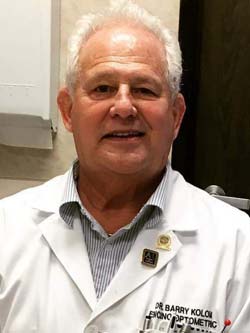 Doctor Barry Kolom is a graduate of UCLA and received his Doctor of Optometry, magna cum laude, from the Marshal B. Ketchum University – Southern California College of Optometry (MKBUSCCO).Following graduation, he taught and worked for two years in the post-doctorate program at the Department of Ophthalmology in the Hadassah Hospital-Medical School, Jerusalem, Israel.
He is a prestigious Fellow of the American Academy of Optometry (FAAO) and was an Assistant Professor, in clinical optometry and contact lens care, having taught for 40 years at the University Eyecare Center Los Angeles, MBKU-SCCO. Dr. Kolom retired from teaching three years ago with Emeritus status.
He has been on staff at the Cedars-Sinai Medical Center for over fifteen years and holds lifetime membership in the American Optometric and California Associations as well as being a founding and emeritus member of the Optometric Consultants in Contact Lenses.
Dr. Kolom has been called as an Expert Witness in numerous Medical-Optometric malpractice cases. In addition to his independent practice here, he continues to teach children and donate time as a volunteer docent at the Simon Wiesenthal – Museum of Tolerance and the Cedars-Sinai Spielberg Ambulatory Care Center.
He maintains his professional expertise by attending extensive ongoing continuing Optometric-Medical education programs on a regular basis.
His clinical expertis includes Ophthalmic, Cataract, Laser Surgery and Glaucoma co-medical management, specialty contact lens fittings, family practice and has participated in diverse clinical research programs for the FDA and the private sector over his forty-five years of practice.
Dr. Barry Kolom continues to provide the above specialties and experienced general eyecare to his established patients at Encino Optometric and welcomes your kind referrals of family and friends.